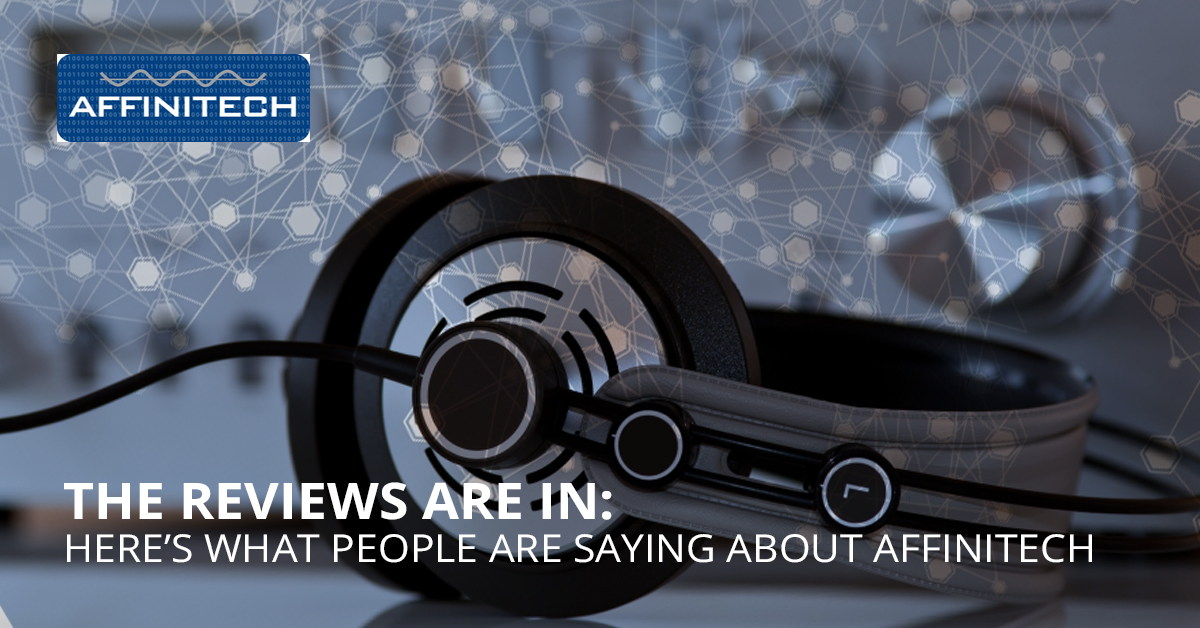 If you've been following along with our blogs for any amount of time, you've probably noticed that we talk quite a bit about customer service. It's a point that we really want to hammer home because it's so incredibly important to us to be providing great customer service to the people who put their trust in us to provide them with everything from professional video equipment to pro audio gear to wireless surveillance camera systems.
That's why in today's blog we would like to highlight a few of the reviews that stuck out to us in particular. To hear what people have to say about us, keep reading!
Affinitech Reviews from Real People
One of the things we pride ourselves on the most is working with people in all different industries across the world. From churches to gyms to high schools, we're happy to help anyone that needs advice on which gear is best. No job is too big or too small for us and we love making sure that people get all of the equipment they need to succeed. But do we do a good job of helping others? Let's see what they have to say.
"Fun, energetic people with all the answers. Thank you!" - Robert
Thanks, Robert! We really appreciate the kind words you have for us and we're glad that we could be of assistance to you. We do aim to be energetic in our approach, working tirelessly to make sure that our customers are completely and totally satisfied with their purchases from the moment they call us through the time they're using their gear (and after, with assistance from our Help Desk which is open 7 days a week).
We're also glad we had the answers you were looking for because we strive to be as knowledgeable as possible in order to best serve our customers.
Let's take a look at another review.
"They offer great pricing and excellent service. Thank you, Affinitech!" - Wayne
Thank you, Wayne! We already touched on our customer service above, but we're also glad to be able to offer some of the absolute best prices in the industry on professional video equipment, audio gear, and security systems as well as all of the accessories you need to make sure that you're fully covered.
With a 10% discount on all Anchor Audio gear and our free ground shipping on orders over $100 (inside the continental United States), we're able to provide people with the equipment they need at the best prices in the business. It's as simple as that.
Let's Count the Stars
We're proud to say that we have a perfect 5 Star Rating on both Facebook and on Google which we hope is a testament to our incredible customer service and our commitment to taking great care of our customers from the first moment they call us. Of course we'd love to hear from you as well! If you've worked with us in the past, we'd be honored if you'd leave us a review on either Facebook or Google and let us know what you think. We take every review to heart and we're always looking to improve ourselves and our business.
We aim to be the best in the business and we won't stop until we achieve our goals.
Place Your Order Today
Perhaps you're in the market for some professional video equipment for the meeting room at your office and you don't know where to begin. Maybe you need a great sound system to use at your gym, but you're not quite sure what would work best to make sure the bass is really thumping. You may even know exactly what you need, but want to get an opinion from us.
No matter what the situation is, you can rest assured that we're here to help. We've worked with customers from a number of different industries and we'd love nothing more than to help you find the equipment you need to get the job done the right way the first time. So go ahead and give us a call today--our number is 844-688-7600 and we'd love to help you find the products that work for you with no pressure and no obligation. We look forward to hearing from you!
Recent Posts
IntroductionWhether you're a small business owner or an at-home parent, the idea of home and office …

Good Evening Everyone. I apologize for the delay in getting our giveaway results posted. OF course i …

So what exactly is video management software? Well first off some may call it a VIdeo Management Sys …