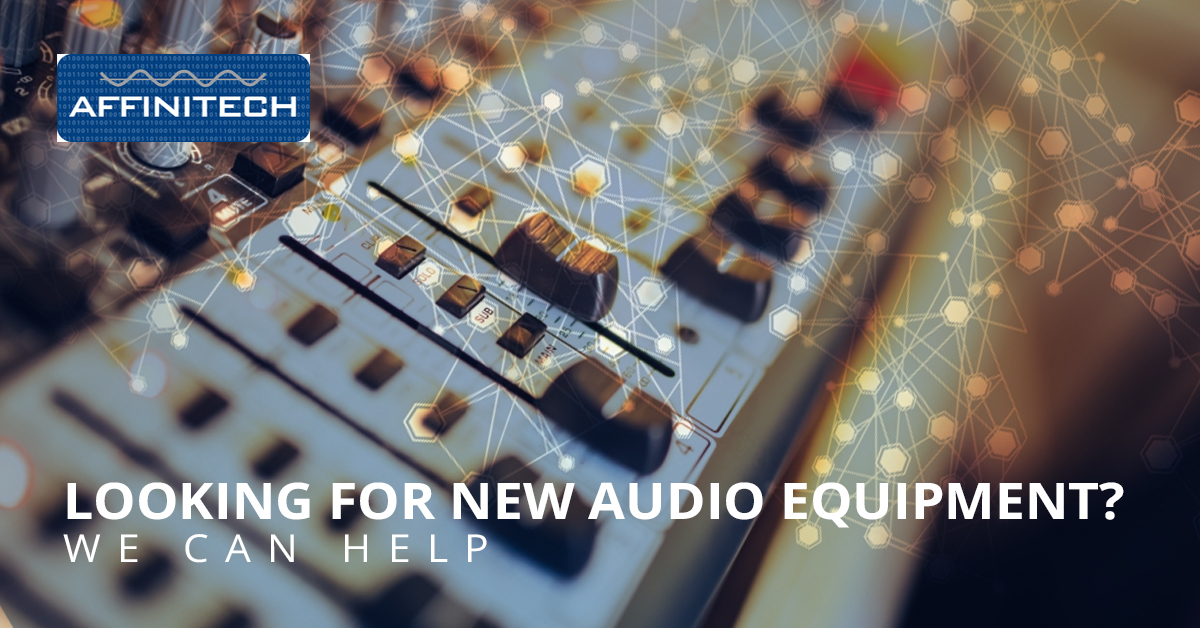 Did you know that the team at Affinitech can help with the design and installation of everything from pro audio systems to video equipment to security cameras? We've found that the people who are in need of items like the ones we offer generally need a bit of help getting started. While some of the companies that work with us know exactly what they want and know how to install it, we've found that this isn't always the case.
Luckily for those people, we're here to help. No matter what industry you work in, no matter how big or small the job is, and no matter where you are, we're here to provide you with the assistance you need every step of the way.
No pressure. No obligation.
Here at Affinitech, we pride ourselves on providing some of the best customer service in the industry. When we say that there's no pressure or obligation to buy any of our products, that's exactly what we mean. We hate having to deal with high pressure sales tactics just as much as everyone else does and that's why it's something that we just flat out won't do to our customers.
When you call us, you can expect that we'll provide you with courteous and helpful customer service. What we won't do is push certain products on you just to make a buck. It's not a good way to do business. Instead, we'll listen to what your needs are and then we'll help you to formulate a plan of attack to make sure that job gets done right.
Whether you know exactly what you want or you're starting from scratch, counting on us to provide you with options that will work to meet your needs, you can rest assured that we'll always be here to help.
We'll Go Anywhere
We're happy to say that at this point we've pretty much done business in every state in the U.S.A. Although most of the work we do is here in the United States and up north with our neighbors in Canada, we're happy to work with customers all across the globe (and we have done that as well!). Whether you need a pro audio system in Rhode Island or a security system in New Hampshire or even a new video setup in North Dakota, we'll be there to help.
From designing the perfect setup to installing the equipment to providing you with support down the road, you can count on us. And speaking of the latter...
Call Us Any Time
Instead of selling you equipment and then forcing you to fend for yourself, we're glad to work with you throughout the entire process. As a matter of fact, we offer support through our Help Desk 7 days a week. Our hours are 7 a.m. to 7 p.m. Monday through Friday and 9 a.m. to 5 p.m. on Saturdays and Sundays, but you can always request additional coverage to be sure that you get the help you need when you need it and we'll do our best to accommodate you.
Our goal is to be as helpful as we can be throughout the entire process, so if you need help or have questions at any step of the way, don't hesitate to call us at 844-688-7600, because we would love nothing more than to make sure that you get the help you need.
Place an Order Today
From pro audio systems to professional video equipment to security systems, we do it all. No job is too big or too small for us and you can count on our team to be there for you throughout the entire process. To learn more about our design and installation process, read up about it here or feel free to give us a call any time because we'd love to work with you and make sure your needs are taken care of.
Like we mentioned above, there's no cost or obligation to you when you call us, so feel free to use us as a resource as you plan your next project. No matter what your company needs to succeed, we'd love to contribute to your success. Give us a call today.
Recent Posts
IntroductionWhether you're a small business owner or an at-home parent, the idea of home and office …

Good Evening Everyone. I apologize for the delay in getting our giveaway results posted. OF course i …

So what exactly is video management software? Well first off some may call it a VIdeo Management Sys …